Unique Ways To Decorate Your Wedding Venue With Flowers
Though there are many ways to decorate any wedding venue from pom poms to buntings, but flowers still remain a premium way to enhance the look of your wedding destination. The reason is, they can instantly change the look and feel of any room and you can use them to dress everything from your pews to your wedding cake! Let's have a look at these creative new ideas…

Aisles and Pew ends
Pew ends may seem like the traditional arrangements in churches, but using flowers to decorate your wedding ceremony space can turn out to be a modern way to ensure that every aspect of your wedding is personalised to you as a couple. Simply tying up small bunches of your selected wedding flowers to the aisle chairs with ribbons is a subtle way to present your wedding theme and will definitely make your ceremony more beautiful. Another thing that you can do is putting single blooms in small tealight holders and hang them from the chairs.
Lining your aisle with potted plants and trees is a great way to bring a touch of the outdoors inside. This is a more impressive decoration than anything else, and you can even customise the trees with fairylights for winter, or butterflies for summer. Once your big day is over, you can take the trees home and plant them in your garden as a reminder of your wedding day.
Centrepieces
Yes, flower centrepieces are very common but more brides are coming up with fresh new takes on a floral focal point. Arranging some fresh flowers in decorated jam jars and bottles is the best thing for DIY weddings and this won't break the bank too! You can use coloured ribbon or lace to create a pretty vase out of an old jar, or you can also use colourful empty food containers. If you are a DIY-impaired kind of person, you can always look out for a luxury florist London.
If you're looking for something more traditional, then a tall centrepiece with candles looks amazing with flowers – just make sure that your guests will be able to see each other across the table! Besides, a few stems of statement flowers such as orchids will be enough to add an impact – you can always buy potted orchids for a reusable tablecentre that you can give away as gifts.
Cake Decorations
Today, a lot of brides use fresh flowers to decorate their wedding cakes, and with good reason – it looks more up to date than traditional icing decorations and just as beautiful. A few fresh blooms on the top of the cake can be enough to bring a simple cake to life, or you can decorate each tier for a beautiful effect. Just discuss your wedding flower needs with your florist.
You can also use flowers to decorate your cake table – This can be done by making a few extra centrepieces and surround your cake with them to make it more eye-catching. You can even put your bouquet here, to save it getting abandoned or lost. Finally, sprinkling the cake table with some red or pink petals truly gives a pretty look.
Reception Décor
When it comes to decorating your entrance or reception space, the sky is the limit! Dramatic floral pieces give a vibrant look in the plainer venues. Hanging a large flower arrangement from the ceiling, like a floral chandelier will surely add up more greenery and bulkiness without your flower budget going through the roof!
Branches and twigs are another great way to add the finishing touches to your wedding venue. For this, all you need to do is spray silver or white and hang with tealights for an icy winter wedding, or hang them with pom poms or floral pomanders for sunnier seasons.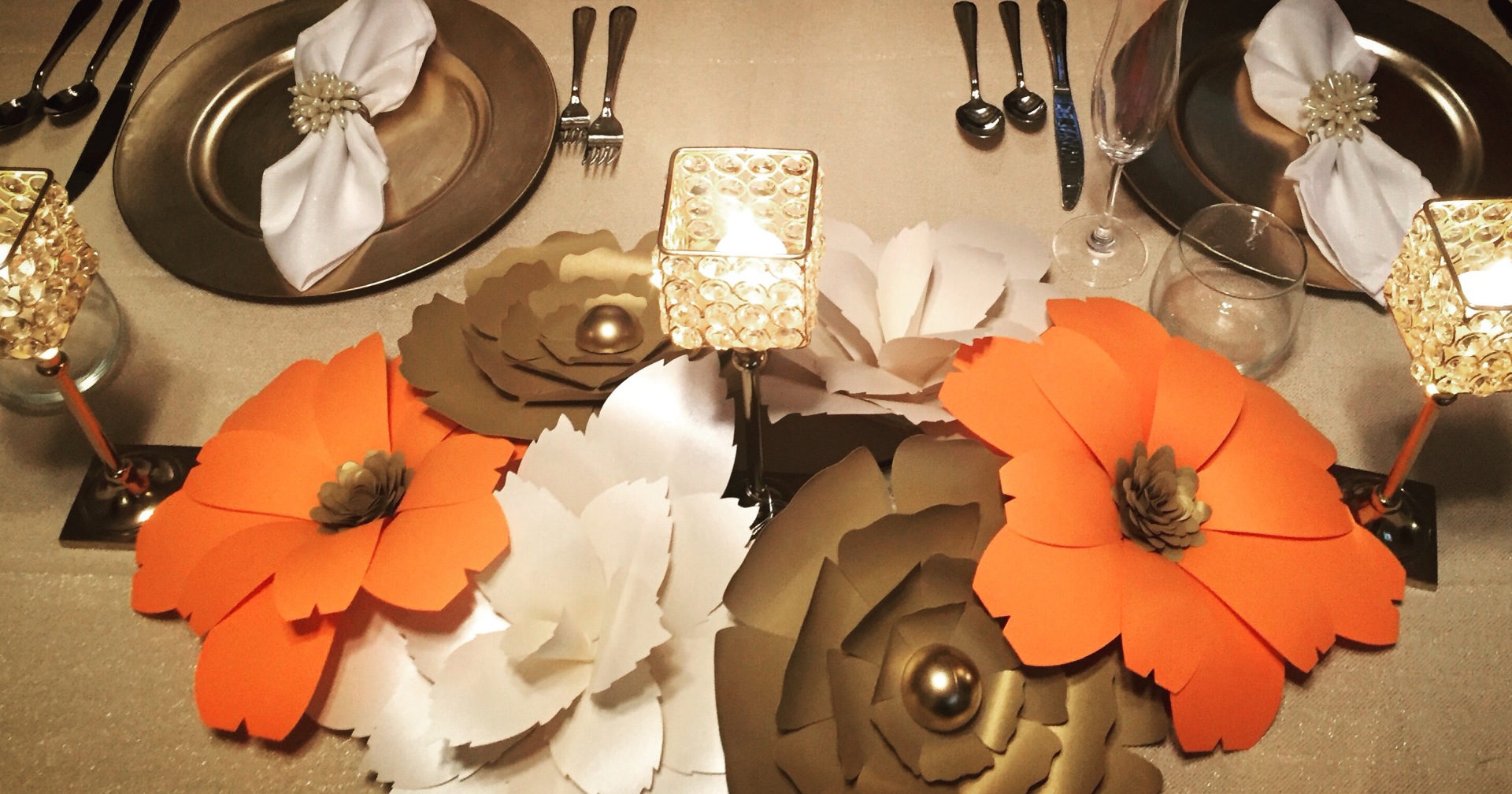 Hope you find these unique and creative ways useful in decorating your wedding space. If you have more ideas, you can share your thoughts anytime.